Is it time to modernise your business?
The word "modernisation" has a connotation nearly all of us like.
For software, it means newer, faster, sleeker, and more useful – all the qualities we want business applications to deliver.
Having stated the bleedingly obvious, what is the reality of modernisation for your business in 2016?
Is it complete replacement?
Is it mobile quality management system software that can help you move away from paper to a modern mobile application instead?
Is it adding a mobile interface to an existing application or integrating legacy systems with newer, fresher technology?
Legacy systems are usually the most valuable systems organisations possess.
The term 'legacy' does not necessarily refer to the functionality these systems deliver, but indicates aging processes, software applications or hardware infrastructure that is expensive to maintain and inhibits change.
With the advent of cloud and mobile, this landscape is changing rapidly.
I have the privilege every day to meet many types of businesses, both large and small, who are trying to define new ways to improve the functions of business process, primarily in the construction and transport sectors.
These companies are sitting at a precipice in their thinking about the future of their systems and processes related to IT.
We find a complex mix of modern and legacy systems abound, making the task of taking the next step in their evolution daunting in operators of all sizes.
Everywhere we turn there seems to be more and more administration and the focus is primarily on what middle management needs regarding financial reporting and project outcomes, versus in the trenches improvements in data capture, safety improvement and digitising the IMS (quality, safety and environmental) aspects of the business.
Our interviews with the "teams on the ground" suggest they waste time and money on non value added tasks that can be distributed across the workforce, but they are told it's too hard to achieve the requests, due to limitations of the existing tools.
And of course money is always tight and surely we can stretch a little more out of what we have got? I wonder if this sounds familiar?
I'm here to tell you it doesn't have to be that way.
There are a range of options available in the market right now including the Entrepreneur's Programme Australia from business.gov.au that can help called The Innovation Connections Business Grant
The great thing is that if your turnover is more than $1.5m and you have been in business for more than 3 years you will likely find the government will kick in half of any capital improvement program for technology, up to a maximum of $40k in one fund, and even more if you look to existing federal industry based skills improvement programs.
But modernising your legacy system(s) – the software your organisation has relied on for many years – can be difficult.
From convincing your executive to approve the change to getting employees excited about new applications, just making the move from "We have a problem" to "Let's choose a vendor" can be a long process.
So I've put together
Five signs that modernisation or improvement of your existing systems is imminent.
1. It's just… clunky.
Are users complaining that the system is hard to use? Do several cumbersome steps dampen user productivity? Is it slow? Is it paper?
A clunky system is an outdated system. Modernisation that fits your organisation's day-to-day user needs can make your team much more productive – not to mention improve office morale.
2. Operation and maintenance costs are high.
When the cost of maintaining the status quo exceeds the long-term costs of modernisation, it's a no-brainer what the next step should be. While modernising may be expensive in the beginning, the overall efficiency gains will lower your expenses going forward.
And that's really the point, isn't it?
To be more efficient, because greater efficiency results in higher profits for your organisation.
Storage, video conferencing, messaging and email are big areas where this can be achieved.
3. Your business processes have changed.
If you selected your application years ago, there's a really good chance that something has changed in the way you do business or the way your employees work. And if the legacy system was set-up to do things "the old way," it might be hard to make your newest process mesh with the application's core functionality. Mobile provides a quick way to modernise the user experience but still fall into line with the existing lines of data capture.
4. There's no tight integration with future applications.
When you know that you'll be using new applications in the future, it should go without saying that you need tight integration between those applications and the existing system. But if your current vendor can't provide those integrations or your IT staff can't build them, modernisation may be the only answer.
Whether it's project management, CRM, or content management, tight integration helps users see all pertinent information in one place – and that means better ROI for your organization.
5. It's not mobile-ready.
When employees have access to your system on-the-go, they can complete more tasks in more places more often. Mobile access is becoming a huge factor in overall competitiveness, and legacy systems that don't allow for it will leave you in the same low-efficiency, high-cost environment you're trying to eliminate.
Integration of your existing business applications to a fresh modern mobile application, even those tired old legacy systems, shouldn't be that difficult with the right vendor or approach.
AS DIFFICULT AS IT MAY SEEM-
IT DOESN'T NECESSARILY MEAN REPLACEMENT OF THE EXISTING SOFTWARE.
I strongly believe it's not the legacy systems that should cave in to new technologies, but that smart modern applications, particularly mobile applications should play a second fiddle in this stage of system improvement programs – meaning we need to support the gaps between legacy systems by using one of the available smart "intermediary" approaches to lift the weaknesses and bringing those applications into today.
Using an intermediary approach can be extremely profitable and in many ways can even allow your organisation to create and integrate not one but many mobile applications in your organisation's workflow.
An investment in cloud-enabling, mobile quality management system technologies will make it easier for all users to access and use to its fullest advantage.
Take a big step toward modernising your systems this year, and watch your productivity take off.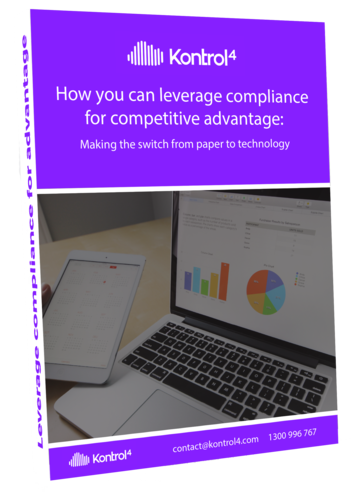 If you would like a demonstration of Kontrol4's mobile quality management system to see how it can transform your business, please click here.