For many organisations, complying with quality and safety management systems, like ISO9001 and Cm3, is either a daily struggle or something they simply don't have the capacity to undertake.
One of the reasons we've found for why organisations struggle to adhere to compliance standards, is they're overburdened with paper-based processes, and the ongoing need to continually manage multiple information flows to and from the field.
While compliance is often seen as a burden to other, seemingly more productive, business activities, industry research suggests there are a number of outcomes that certificates such as ISO9001 and Cm3 deliver for organisations.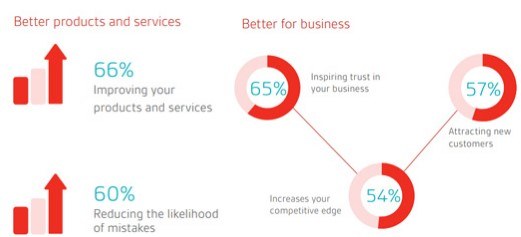 source: https://www.bsigroup.com/en-AU/ISO-9001-Quality-Management-Systems/
Through our experience working with organisations with a large field force and stringent compliance regulations, we have identified the following top 4 benefits they experience after leveraging their compliance as a competitive advantage.
1. Access to new markets
When a company is looking to engage with a supplier, it is often a requirement that any supplier they contract with has an ISO90001 or Cm3 certification. With the attainment of these certifications, you ensure that you can fulfil this requirement, remain competitive in the selection process, and can bid for a wide range of projects.
2. Improve product and service quality
Quality management systems such as ISO9001 outline clear guidelines that, when followed, ensure your business consistently produces products and services that are of world-class quality.
3. Clear internal processes
ISO9001 and Cm3 provide a framework for process integration across your entire team. This framework ensures everyone in your organisation, from your workers in the field to the team based in the office, has a clear understanding of:
● How and where all information must flow throughout the organisation,
● What is expected of them at all times to ensure all jobs are completed to a high quality, and
● Any opportunities for feedback and process improvement.
The digitalisation of this process can allow you to experience this advantage in a more streamlined manner.
4. Improve efficiency
Implementing ISO9001 or Cm3 means that you have in place processes for assessing risks, identifying opportunities for improvement, and measuring performance. As a result of these processes, you'll likely experience lower operational costs, a reduction in waste, and an overall improvement to your bottom line.
Getting the most out of compliance
Your ability to fully transform your compliance burden into a competitive advantage relies fundamentally on the way information flows within your organisation.
To properly leverage a quality management framework for competitive advantage, organisations need to minimise their admin and streamline their information flows. This is easily accomplished through a digital quality management system – which bypasses the inefficiencies caused by paper-based, manual processes.
At Kontrol4, we understand that for many businesses it is challenging enough adhere to your current compliance certification, let alone adopt an entirely digital system.
To help overcome this challenge, we have a team of experts who work with organisations to understand their needs and help to implement a digital management system so they canstart toleverage theirquality and safety management systems for competitive advantage.
Give us a call on 1300 667 999 or click here to have a quick chat about how you can leverage ISO9001 and Cm3 compliance in your business today.