A Real-Time GPS Fleet Tracking Solution
HOW CAN ASSET TRACKING BENEFIT YOUR BUSINESS?
Kontrol4 provides an integrated business asset tracking solution, allowing you to gain an instant snapshot of your valuable assets, anywhere, anytime.
We track the location of your assets via GPS, allowing you to access this data in real time via the cloud.
Fleet GPS Tracking Made Easy
Kontrol4 (Mobile GPS App)
Kontrol4 offers a Real Time GPS Application for both iOS and Android-based devices, enabling you to receive information that matters, sent straight to your mobile phone.
The Mobile Application Olympia Tracking has been created to complete Kontrol4 Online Web Application and provides a fast and user-friendly way to keep track of your business or personal concerns whenever your computer is unavailable – anywhere and at any time.
Whether you are in the office or travelling, you can stay in control and find peace of mind straight from the palm of your hand.
Key Features:
Receive real-time alerts.
View the location of your devices.
Get all the details about each device.
View your list of notifications.
View each notification's details and location.
The 2G (GSM) Network Shutdown
Last year Telstra announced that the GSM mobile network will be shut down 1st December 2016, which will affect transport operators that utilise the 2G network for telematics devices in vehicles.
Telstra notified customers via mail, but we're finding that the news hasn't necessarily filtered through to Transport Operators managing fleets. In short, if your company is with Telstra and uses any GPS telematics or mobile enterprise devices in the field that rely on the GSM network, they should be replaced with devices compatible with the 3G or LTE (4G) network. Upgrading to the 3G and/or LTE (4G) mobile networks will open up a range of options for transport operators that want to benefit from the latest in technology. Rapid mobile data communications with the new networks will deliver data quicker and allow newer capabilities to become available.

3G/LTE (4G) mobile devices can provide real time: Fatigue Management and EWD Timesheets Maintenance Management (Fault Creation, Review and Corrective Action Close Out)
Job Updates, Deliveries and Multi Image POD (Barcodes and NFC Tags) Mass Management.
How can Kontrol4 help?
If your company is faced with the challenge of transitioning from the 2G (GSM) mobile network, we can help you replace your GPS Telematics and any mobile enterprise devices and adopt best practices by going paperless. Our Cloud-based solutions allows access to compliance, jobs and tracking systems using web browsers and mobile applications within an integrated solution. In addition, our MQMS application runs on any smartphone to deliver a paperless driver compliance and productivity solution for Android, IOS and Windows 10
Chain of Responsibility (COR)
The Kontrol4 solution gives managers the peace of mind that they are satisfying their CoR obligations in relation to Speed management of their fleets. Our system provides corrective actionable alerts and reports for posted speed zones and customer selected speed settings. Speed monitoring utilises 5 second GPS speed samples and is validated by ECM speed for greater confidence when discussing speed breaches with drivers. Our customers are able to conduct detailed analysis of speed breaches which clearly shows all posted speed signs, GPS and ECM data as well as altitude so a customer can validate a speed breach.
Our Compliance Package delivers a reliable automation of the strict compliance demands of CoR legislation.
What Is Chain-Of-Responsibility?
The chain-of-responsibility means that all parties in the road transport chain - not just drivers - are responsible for unlawful practices in the road transport industry.
The chain -of-responsibility targets:
• Speeding
• Illegal driving
• Illegal working hours
• Overloading
• Exceeding vehicle dimensions
• Poorly restrained loads
Improved compliance with these and other laws will provide a safer industry for workers in the road transport industry and other road users. Driver Fatigue Through the integration of accurate GPS based telematics and web delivered electronic logbooks, any combination of drivers and trucks can be assured of complying with the current and future Fatigue Management regulations for each State. The provision of a special mobile phone provides a readable version of the logbook for jurisdictional officers to review, and a PDF copy can be emailed to any officer or jurisdictional office. Detailed reporting of driver trips across numerous trucks, including jurisdictional stop periods, DC queue wait times and other customisable events can also be provided.
Kontrol4 GPS Cloud Control Center
Kontrol4 Online web application is one of the most effective tools for GPS web based fleet management, container management, as well as for monitoring and management of people and of assets.
The units registered on the web application can be displayed over a detailed map, reporting their status and condition in real time. The application is optimized for all types of advanced mobile devices (smart phone, tablet), and can be accessed from anywhere in the world. From the comfort of your home, on the road or in your office, you can monitor and manage the units under your supervision.
The advanced sophisticated fleet management system generates operational and statistical reports, according to the organization needs and requirements. In only a few simple steps, you can analyze data from cross- section data bases (driver behavior/ vehicle behavior/ work hours etc.) to provide you with a view on patterns, needed for essential management.
The fleet management application is user friendly and easy to operate. You can prepare a customized event, define where information is routed, and set the timing. The application is backed by built-in support, so that anyone can maximize the options it offers.
The fleet management software is flexible and can be defined to alert on a number of conditions happening simultaneously. For example, an alert could be generated by any opening of the cargo door outside the authorized unloading zone. The software also enables to easily define the destination of the alert and the priority of the routing, thus providing a real-time monitoring from anywhere at any time.
FBT Logbooks (MQMS)
Paper Log Books are now a thing of the past with MQMS providing the driver their manual / automatically created Logbook at the end of a shift / Month which can use the job system to create a report for end of year reporting. In a addition, a number of interfaces are available and all reporting can be exported to Excel so you have control to change output information.

After the driver finishes their jobs, the logbooks can be reviewed, edited and then "signed on glass" for a complete record which a notification can automatically be sent to key operations people.
Kylos
Portable Tracking Solution For Locating Merchandise & Assets
The Kylos device by Kontrol4 is a sophisticated portable GPS tracker, designed for the purpose of keeping track and determining the location of assets and possessions as well as keeping your family members and pets safe. The Kylos Compact system provides the essential information so that you can make effective decisions about your business or personal matters instantaneously. It will send notifications about changes in predefined settings and will trigger alerts to any irregular events or breaches, so that you can decide when your immediate attention is needed.
How does it work?
Kylos incorporates the function of multiple technologies working together within a single unit. Featuring an integration of cellular communication abilities, GPS technology and innovative built-in sensors, Kylos Compact will deliver reliable and accurate data for your business and personal tracking needs, enabling you to guard the things that you consider valuable and protect the ones you love.
The device is widely available in shops and is a compact, lightweight and water-proof unit that has been designed to be attached to all kinds of assets and worn by people and pets. It can be hidden in almost any item you have chosen to protect, making it totally adaptable to an extensive range of applications and applied to a diverse range of situations. Application examples:
Merchandise
A built-in light sensor will raise an alert if your high-end merchandise cargo is broken into, reducing the risk of your business falling victim to security breaches.
A built-in temperature sensor will proactively identify and react to a deviation from a preset temperature range, lessening the risk of delivering spoiled goods or medical supplies.
Assets
A built-in accelerometer will raise an alert if your parked bicycle is being moved, thus enabling you to always know if and when your personal valuables are being tampered with.
Geo-fencing capability will raise an alert if your assets leaves a specific zone area that has been pre-set as safe or unsafe.
Kylos Air
Sophisticated tracking system, designed for the purpose of monitoring and tracking air cargo. To comply with the airlines' regulations, cellular modem is deactivated during take-off, and reactivated automatically upon landing.
Measured values GPS Location, Temperature, Light, Impact & Air pressure with a longer battery life, this device is suitable for longer periods of time, making it ideal for monitoring your commercial goods traveling long routes.
With Kylos you can:
Keep track of your pallet as it travels long routes
Monitor larger items such as dumpsters and refrigerators
Remotely monitor your beehive's condition
Protect your mobile generators and construction equipment left on site
Monitor your vehicle without the need for installation (an alternative to regular AVL systems)
Monitor the position of fragile goods and cargo that require special handling. For example: the shipment and storage of medical syringes that necessitate a vertical position
Kylos Forever if you need a "once-a-day" notification to ensure that your equipment is operating securely, we have the right asset tracking device for you. Kylos Forever will watch over your assets or equipment placed in remote areas for months at a time, with its battery that lasts up to 3 years. This way, you can keep up with what's going in your most isolated sites, and reduce the risk of having your equipment stolen, lost or possibly forgotten!
Sure enough, while the device is in sleep mode, it will "wake up" and report any situation which appears to be out of the ordinary or unexpected.
Kylos Forever is a standalone unit, capable of operating without the need for any connection or external wiring – this makes it easily hidden if required, for example in a motorcycle.
Keep your Business at a competitive advantage with Kylos Compact by Helping your customers to:
Continually secure their merchandise and assets
Continually protect their family members and pets
Respond quickly to irregularities
Have a user friendly software solution
Provide a wire-free and battery powered solution
Generate various system reports
Keep watch 24 hr without disrupting their everyday business life
Integrations
The key to productivity improvements is to integrate the mobile date arriving from a driver and heavy vehicle seamlessly into the transport operators Enterprise Resource Planning (ERP) system.
Kontrol4 has had many years integrating our systems and primary data related to fleets, drivers, assets, customers, jobs and products.
Job scheduling and allocations, service scheduling, CRM and other subsystems
Vehicle maintenance (defect management) and proof of delivery imaging
Accounting
Customer proof of delivery, as well as job scheduling
Timesheets
2G to 3G (GPS unit Buy Back)
Need to change out your 2G GPS tracking to 3G/4G?
Kontrol4 will pay you for your old 2G device removal and replace with a new Helios TT 3G device.
The 2G network shutdown has been completed for Telstra on (1/12/2016), and in place for Optus 2G (1 April 2017) and Vodafone 2G(September 2017) the end has arrived for 2G GPS tracking hardware.
Let the Vertical matters team update you important hardware and evaluate your current systems. The VM team offer free onsite reviews of current systems. The highly trained staff can assist and recommend systems to improve and streamline your current GPS and business flow requirements.
Please contact for a price and meeting
MQMS Job System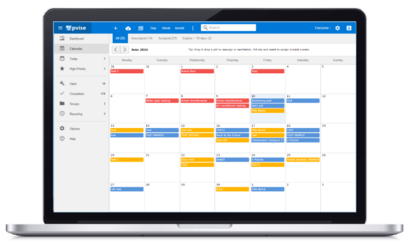 Schedule, Assign & Monitor Jobs in realtime
Schedule Job repairs in Calendar view Drag & drop jobs to reassign them to staff in advance.
Schedule recurring jobs in advance for better planning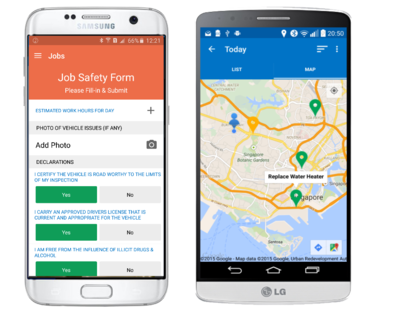 GPS Tracking, Maps & Directions
Your team can manually 'check in' or you can automatically track them so they can concentrate on the road. Track your assets in real time with in vehicle GPS integration Get real time driving directions and traffic information with Google Maps integration.
Optimize your day's visit by finding the shortest route possible.
Jobs update live as they progress. From travelling to site, in progress or on hold. Pause and restart jobs easily.
Fleet Over 50 Units (Special Pricing)
Kontrol4 can provide special volume discount pricing for vehicle fleets over 50 units. This includes all the great services we supply at a ongoing discounted rate.